Our Caulking Services Proved the Best Option Once Again When Restoring This Shower in Lawrence, NY
November 28, 2022
Although maintaining showers in good shape is difficult, many homeowners prioritize this chore; but sometimes, depending on the damage, conventional methods won't work. When this happens, this chore becomes difficult. This homeowner wanted to clean up his shower because the surface had deteriorated over time and it looked dirty. The owner tried some stuff out, but despite his efforts, nothing changed. Feeling frustrated, the owner made the decision to seek out expert support.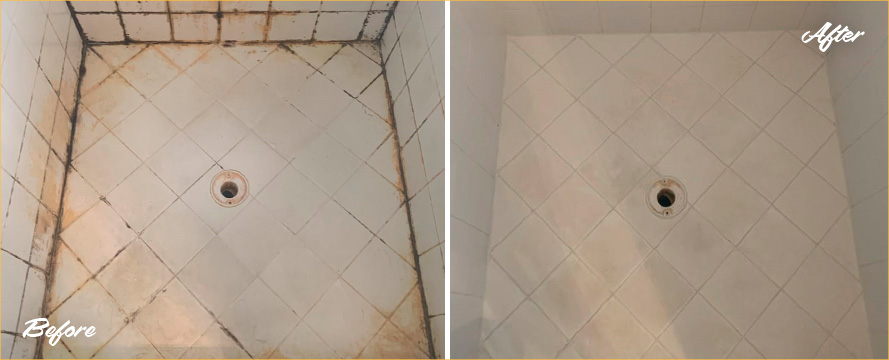 Luckily, he had a friend who was one of our most regular customers. His friend offered her opinion after telling him that our
caulking services in Lawrence, NY
, were the way to go. The owner decided to look us up online after his friend's recommendation. After exploring our website, reading some of our blogs, and seeing our
picture gallery
, the owner contacted us and requested a free examination in the hopes of a quick solution to his issue.
The in-home consultation was carried out a few days later. The owner received us when we got there, and we immediately started on the examination. We entered the shower and found it to be in disrepair. The caulk surrounding the seams was cracked, the grout has significantly deteriorated, and the tiles were in terrible shape. The result was that the entire surface looked awful. Furthermore, the grout lines weren't sealed. Our team emphasized that because this common combination is porous, it is open to absorbing many other substances, which might cause more issues. It was necessary to use a special sealant in order to stop more deterioration.
Our team talked with the owner about a solution after identifying the problems and shared our knowledge. We offered our caulking services because we thought the situation demanded it. We would repair and restore the shower using our high-end tools and materials. The owner hired us since the examination went on smoothly.
We went back to our client's home a day after the inspection was finished, prepared to begin the shower's restoration. Our process is a detailed one that includes several steps. We started by cleaning the surface with our own cleaner. Our product won't harm the surface because it is produced with high-quality materials and doesn't leave a residue. We then used a steam cleaner to remove any entrenched dirt. After everything was spotless, the surface needed to be sealed.
Regular cleaning won't be sufficient if the grout has experienced significant damage or deterioration. This makes cleaning routines challenging, and many homeowners find them irritating. On the other hand, Sir Grout Nassau New York has the equipment and knowledge to handle all of these problems.
The caulking was the focus of the following step. We replaced it with a durable epoxy solution since the joints were in poor condition. This product isn't porous, unlike other substances, so it can easily endure daily use. Given that it is mold and mildew-resistant, it is perfect for showers. We continued with the sealing procedure to complete the project.
To complete this work, we applied a layer of ColorSeal, Sir Grout's sealer. Our exceptional product provides unrivaled defense and long-term effects. It repels dirt, filth, and other external agents, slowing degradation and making cleaning practices simple and quick. ColorSeal significantly improves the surface, giving the grout a consistent color and a brand-new look. It is available in a variety of colors, allowing our clients to harmonize the tiles with the grout. The project was a complete success. The customer was absolutely delighted with the results.
Shower cleaning may be difficult and time-consuming. These surfaces can deteriorate fast due to high wear and tear, generating damage that is difficult to repair. It is critical to follow our instructions in order to keep these regions in top condition. We recommended establishing a weekly cleaning practice that includes only pH-neutral, soap-free cleaners such as
Sir Grout's Natural Hard Surface Cleaner
.
Our product offers excellent results and is unquestionably the greatest option on the market. It is also non-toxic and safe for all. We do not recommend using soap-based cleaners or acidic chemicals. These products can have a harmful impact over the long run, creating a variety of problems. They create a sticky foam residue that seeps into the grout lines and causes stains, discoloration, and other damage. Furthermore, there are abrasive substances that harm hard surfaces.
It is necessary to take precautions against mold and mildew growth. These fungi grow in wet areas and can quickly become a health risk for everyone in the house. To avoid this problem, leave the door ajar or a window open, keep a light on, and after using the shower, clean the surface with a squeegee, a towel, or a terry cloth. Squeegeeing on a regular basis also helps to decrease dirt and grime collection, keeping the space spotless.
Our satisfied clients can confirm that Sir Grout Nassau New York's caulking services are superior. Don't put it off any longer; freshen up your dingy shower today. Call us at
(516) 620-7789
or fill out the "Request a Quote" form on this page to schedule a free consultation today. If you want to keep up with our latest news and promotions, subscribe to our
newsletter
.